Cold Chain management with Vacuum Cooling
Maximal Freshness | Future Proof | Powerful | Fast | Reliable
Market leader in Flower Cooling
Vacuum pre-cooling, both at the farm and at the airport, maximizes the vase life, yield and profitability of your flowers! Vacuum cooling is already used at many airports, both on the departure and arrival sides. To achieve maximum shelf life and reduce the risk of botrytis and rejects, vacuum cooling should be applied closer to the source - the grower. Vacuum cooling is a powerful tool, when applied correctly and using the correct technology and settings.
Weber Cooling is the fastest growing supplier of vacuum cooling solutions for flower growers and their logistics partners. In the past two years, we have installed several dozens of new flower coolers worldwide, ranging from cheap and compact (and mobile) systems, to extensive airport solutions that cool more than 300,000 kg of flowers per day! Our flower solutions offer ease of operation and guarantee perfect cooling results at minimal cost.
Benefits for Flowers & Cold Chain
The faster the flowers are cooled after harvest, the longer the vase life and the transport time can be. Once harvested, flowers become stressed, resulting in rapid breathing and perspiration (sweating). Both are mainly triggered by temperature. Rapid pre-cooling can reduce both respiration and perspiration by 75% or more!
Many flowers pose a risk of Botrytis due to moisture accumulation in and on the flower sleeves. Vacuum cooling is based on moisture evaporation and extraction, which removes moisture from the inside of the flower sleeve and from the flower surface, reducing or even completely eliminating the risk of Botrytis. This results in quality maintenance and less rejected product and waste!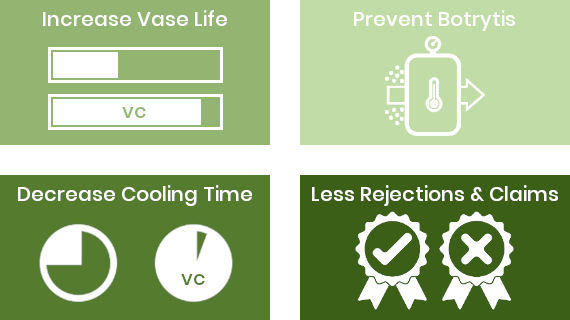 WeFresh Range for Flowers & Cold Chain
Weber Cooling understands what is necessary for perfect pre-cooling of your flowers and offers solutions for optimal cooling.
We offer standardized machines, but also design tailor-made systems. Ask us about the possibilities. Our solutions for Vegetables & Herbs are part of the WeFresh Range:
How does temperature affect vase life?
The vase life of flowers can be measured in so-called "degree hours", where one degree hour equals 1 hour x 1 °C. The longer the flowers are exposed to temperatures above the desired level, the more they suffer. To ensure a good vase life, the maximum number of degree hours before the flower is placed in a vase is on average about 500.
If the temperature of a flower is 25 °C (77 °F) after cutting, 20 °C (68 °F) during the second hour and 15 °C (59 °F) during the third hour, you have already lost 60 degrees of shelf life - in a span of just 3 hours!
Weber Cooling understands what it takes to achieve perfect pre-cooling of your flowers and offers solutions that can optimize cooling.